Shanty Bay Tree Service
Your Trusted Shanty Bay Tree Service Company
If you're like most residents of Shanty Bay, ON, you like spending time out in nature, on the water, or perhaps playing a few rounds of golf. During hot summers, spending some time outside to relax in the sun is second nature to everyone. But, when living close to nature, you may fall victim to natural disasters that create the need for Shanty Bay tree service. High-speed winds can reflect off the water from a major storm that could cause damage to the area. Tree branches could snap off or fall over completely. When that happens, you want to have that taken care of as soon as possible. 
Or maybe you have the perfect spot on your patio where the sun hits you just right to warm you while you have your morning coffee. Then, one day a looming tree has grown so big that it blocks that spot, ruining your favourite sunshine area.
No matter the reason why your tree is giving you a headache, your expert team of Shanty Bay tree service professionals will fix your tree problems, whether you need an inspection or emergency tree removal service.
Shanty Bay Tree Service: Tree Removal
Has the health of your tree been going downhill? Is a once prosperous oak now wilting and filled with diseases? Is an insect infestation becoming a spread risk? If the answer to any of these questions is yes, you might be considering consulting tree removal companies. Inspections and arborist consultations are a significant part of our Shanty Bay tree services. Our service professionals will help you identify disease symptoms and other signs that call for immediate action.
Signs You Need Tree Removal:
Disease: A disease affecting your maple tree could cause it to lose its structural integrity and begin decaying from the inside out. That disease may also be able to spread to nearby plants. Pay attention to warning signs like cracked bark, discoloration, unusual leaves, fungi or crumbling wood. These signs point toward diseased trees that ache for immediate tree service. Shanty Bay, ON homeowners who call in time for inspection and treatment may be able to save their trees. 
Pests: Insects or vermin also have the ability to destroy your tree. Often, you won't even notice until it's too late. Ash trees in Shanty Bay are particularly susceptible to the emerald ash borer, an invasive species that infests trees and has a 100 percent mortality rate. Removing infected trees early on is essential for the survival of any other plants in the area. Fruit trees are especially prone to attracting pests.
Root and Growth Problems: Shallow roots, fungal growth near the base of the trunk, missing foliage, and discoloured leaves all indicate root or growth problems. If your tree has trouble growing, you will need certified tree service. Shanty Bay, ON property owners who have recently transplanted that tree may not realize that it could still be in shock—if it doesn't recover, it may lead to growth problems that necessitate removal. 
Decay and Damage: Any forms of damage such as cracks, splits, wounds, dead branches, hollow trunks or other signs could indicate serious issues. Damaged trees often have a difficult time recovering, and for particularly severe damage, removal may be the only option.
Leaning Trees: Most plants aren't perfectly straight, but an obvious lean to a certain side can indicate structural damage near the base or root system. Without a healthy base or roots to offer support, the risks of collapsing increase significantly. Safe, professional removal services will prevent any damage caused by sudden collapses.
Epicormic Shoots: These are those small branches that you may find shooting up from the base of the trunk. Occasionally, they grow large enough to have leaves on them. These epicormic shoots grow in response to stress, such as root issues, changes in the surrounding soil, or other health-affecting issues. This in itself may not be serious enough to warrant removal, but it is a sign you may want to have your tree's health examined by a Shanty Bay tree service expert.
Benefits of Removal:
Reduced Risk of Injury or Damage: Having a branch waiting to fall or a tree with interior decay is a serious hazard. Instead of hoping it won't destroy anything important, your safest bet is to securely remove it with Shanty Bay tree services. 
Protect Nearby Plants: A collapsed tree could decimate a vegetable garden. But any diseases can also pose a risk to healthy surrounding trees. Some pests spread easily to neighbouring vegetation. Removing any bad apples from the bucket with professional tree removal services can protect any surrounding plants from facing the same issues.
Fewer Pests: Insects often make their home in decaying trees and spread themselves in the area. Removing the tree itself will help reduce the pests in the area.
Improved Property Value: Homebuyers may see a dying oak as something they have to take care of and will include it in their evaluation of your property. Removing it could not only increase your curb appeal, but also your overall property value. 
Tree and Hedge Pruning
Tree pruning is the process of cutting away branches to control growth and improve a tree's appearance. Tree pruning service has certain benefits, such as lowering the risk of infestations, disease and damage while also removing unwanted branches and stopping branches from growing too close to your property or nearby power lines.
Types of Pruning
Crown Raising: The purpose of raising is to lift the bottom sections of branches to clear the area below. For deciduous trees in Shanty Bay, we recommend the branches take up at least 60 percent of the structure, while for conifers like evergreen trees, an even balance is more acceptable between the trunk and crown.
Crown Cleaning: The purpose of this technique is to get rid of all old, dead, weak or diseased branches. This will ensure that the overall structure is strong and free from risk factors that lead to future damage and disease. This method is a common form of tree maintenance that your Shanty Bay tree service professionals also provide.
Crown Reduction: The purpose of reduction is to control growth by removing older branches and promoting the growth of new limbs. Reduction works by cutting a branch back to the lateral branch it's growing from, making the lateral branch become a part of the crown. Reduction is typically used on older trees, as it strengthens the entire structure and encourages new growth. This is commonly referred to as tree trimming.
Tree topping: The process of quickly shortening a tree by cutting off the top. This method will stop excessive growth near power lines or utility lines. Many alternatives exist to topping, such as properly pruning limbs to avoid that kind of growth ahead of time. This method can result in serious consequences for the tree, such as increased vulnerability to disease and pests, permanent disfigurement and sometimes, death.
Signs you Need Tree Pruning
It may be difficult to determine a good time to prune your tree because it's hard to see the aesthetic benefits of pruning until they happen. As your Shanty Bay tree service experts, we are happy to provide you with before and after images to show you the major differences.
Infested or Diseased Limbs: If you notice signs of an infestation or disease that's isolated to a single branch or particularly weak branches, tree pruning and branch removal will help get rid of that issue before it spreads. 
Dense Foliage: Dense foliage could increase the risks of storm damage from wind or getting too much snow trapped in the branches. It will also impact the health of the tree by stopping sunlight from reaching all the leaves, causing dead leaves, and decreasing effective air circulation.
Excessive Growth: Trees growing in urban areas with fewer surrounding trees tend to have faster growth periods than those in forests. This fast growth could get excessive and lead to tall trees that need to be stopped before they're at risk of damaging surrounding objects. Taking care of this early on will give you peace of mind about future tree issues.
Benefits of Tree Pruning
Improved Tree Health: Regular pruning done by a Shanty Bay tree service professional will help your tree's overall health and make sure it's growing in a safe way that won't cause problems down the line.
Improved Curb Appeal: Don't let an ugly, unmanaged tree impact how people value your property. Taming your tree will improve its beauty and also the appeal of your entire property. 
Improved Sunlight Penetration: Removing large, dense branches will make it easier for the sun to shine on all the other nearby leaves and also any nearby plants in your yard. If you're getting too much shade in your yard, this will help let some sunlight in.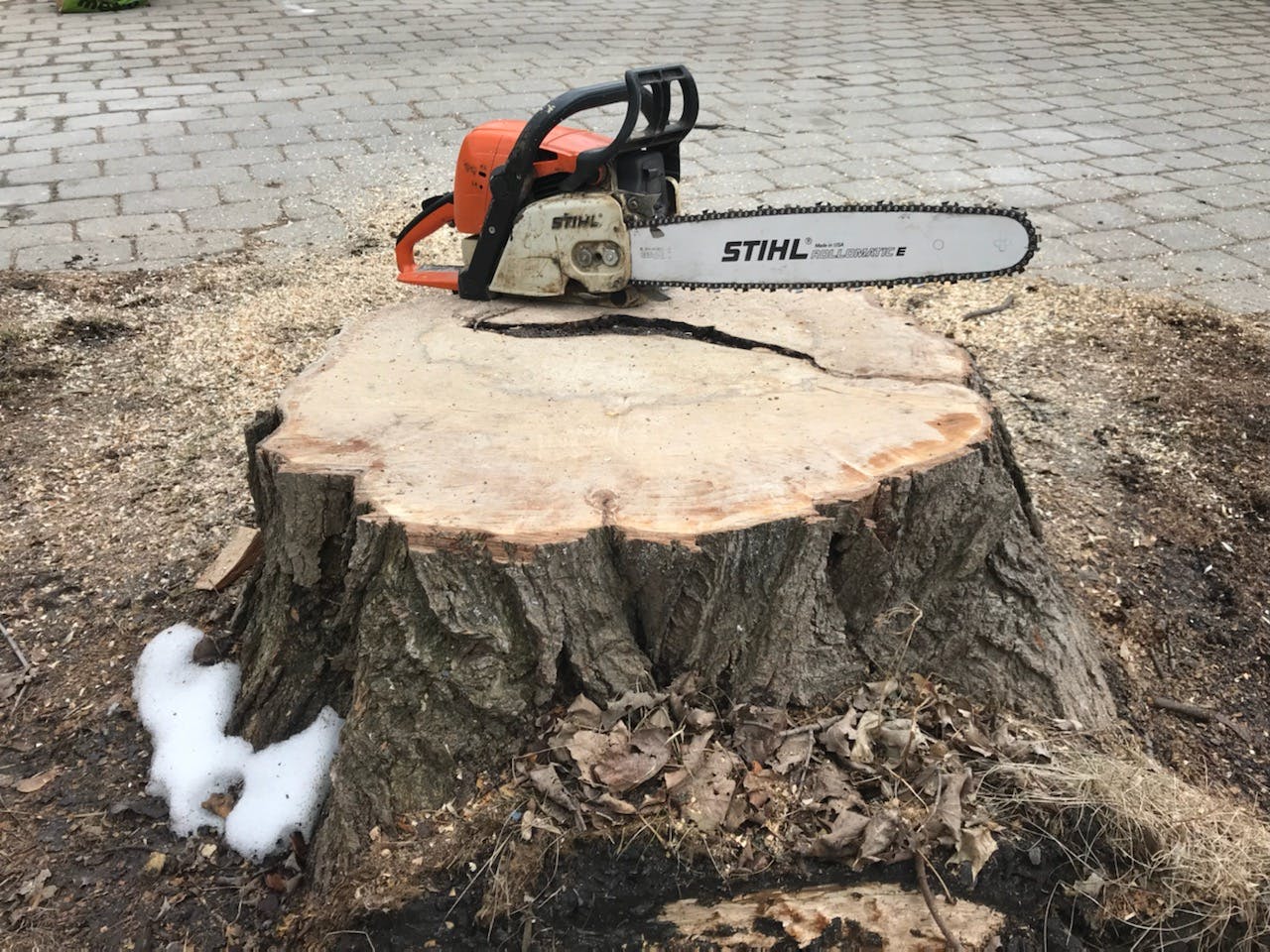 Tree Stump Grinding
Did you have a tree taken care of that left a stump behind? Stumps can be annoying because they take up space in your yard, making lawn care more difficult, and are an all-around eyesore. Stump grinding service is the best solution for that problem.
Benefits
Free Up Space: That stump may become a big obstacle in your yard. It might be restricting future property development or is just becoming a big source of frustration. Grinding it down will free up the space for your future needs.
Protect Your Property: From wood rot to any problems caused by remaining roots below the ground, there are many ways an old stump can wreak havoc on properties in Shanty Bay. Grinding that wood away will reduce your risks of damage and will help protect your property from other issues that could develop in the future.
Improve Your Curb Appeal: What's the point of removing a dead tree to make your Shanty Bay property look better if a stump is left behind? Removing this old stump will make your lawn look beautiful again.
Grinding vs. Removal
Grinding is a process that involves reducing the stump to a small hole that can easily be filled. It is a quick and affordable process that uses a stump grinder. Stump removal involves pulling up all the roots and is a more extensive process that is more time-consuming. This is used when all the roots must be removed so heavy machinery such as farming equipment doesn't get stuck on them. Although it's possible to perform this on your own, we recommend seeking help from a Shanty Bay tree service professional to make sure it's done correctly and no roots or stumps are left behind, as it can be a risky process.
If you have stumps that you're tired of looking at or want to learn more about the process, please contact us for professional tree service. Shanty Bay, ON property owners who have questions ready will get all the answers they need from our tree specialists.
Tree Assessments
Our tree doctor will evaluate your oak's age and health and point out any underlying issues that might arise. During this assessment, you can ask any tree care questions you may have and receive tree care tips about the tree in question. 
Suppose any of your trees have difficulties growing straight or need structural support. We offer tree cabling and bracing services to help fix their developmental problems.
Emergency Shanty Bay Tree Service
Emergencies can happen at any time. For that reason, our team of professional arborists are ready to respond with emergency tree service 24/7. We can work directly with your insurance providers to ensure nothing comes out of your pocket, and have your hazardous tree dealt with safely and in a timely fashion. 
Why Choose OrangeX for Shanty Bay Tree Service?
When choosing our tree services, Shanty Bay, ON residents receive prompt and clean service. We get the problem solved the first time without leaving a mess behind. Our high safety standards and focus on people over profits means that you're choosing a company that values quality over quantity and maintains the highest level of professionalism.
Our environmentally friendly solutions help us do our part for the environment by taking steps to become a net-zero company. This includes going paperless, using battery-powered or electric equipment whenever possible, and adopting new technologies that allow us to provide greener services and solutions. No matter the issue, please give us a call for expert tree service. Shanty Bay, ON homeowners who use OrangeX Tree Services will always be able to have a safe outdoor living space on their property.
Stop Searching for "Tree Service Near Me." Trust Your Local Service Professionals at OrangeX
When you're looking for professional tree companies in Shanty Bay for safe removal or tree care services to keep your trees healthy, look no further. At OrangeX, our comprehensive tree care services are always provided with high quality solutions and customer satisfaction in mind. We offer services for both residential and commercial properties, whether you're in Shanty Bay or nearby areas, such as Simcoe County, Innisfil or Barrie.
Give us a call at 705-817-8773 or book a free estimate on our website for Shanty Bay tree service.